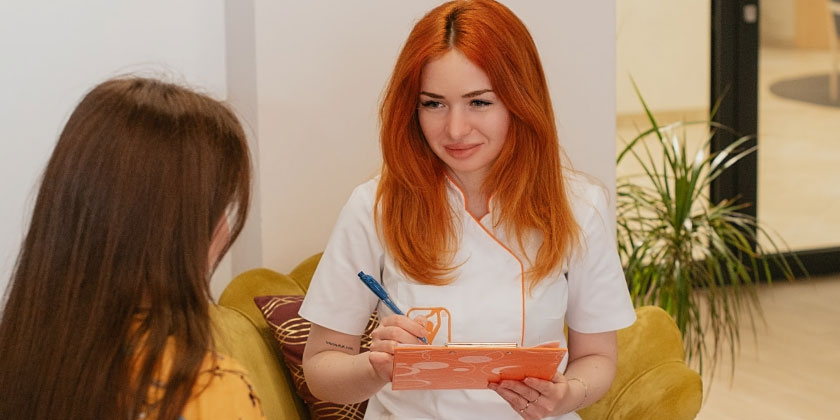 Studio Figura is a specialized studio for shaping the female body. It is a global brand that has no competitors in the Czech Republic and uses exclusively holistic approach to slimming and restoring the strength of the face and body.
Anti-aging therapy involves teamwork between the client, the esthetician and the nutritionist. Most effective is the use of advanced methods of instrumental cosmetology, body contouring and the creation of new eating habits under the sensitive supervision of experts.
Studio Figura is a full-service studio that cares about the beauty and health of your body and skin.
Every woman who contacts us must be prepared to work openly with the experts and implement all recommendations. Only by working together can we achieve the desired results and maintain them in the long term.
All programmes are individually designed taking into account the woman's health, medical history, habits, physical characteristics (e.g. allergies), wishes and indications.
If you have any questions or concerns, feel free to contact our chat here on the site or book a callback (bottom right corner of the screen) or contact us via any messenger...
Our fitness equipment is fundamentally different from what you are used to from gyms.
Here you will find multifunctional fitness machines whose effect is ensured by different types of action: mechanical, ionization, heating, vacuum, etc.
Thanks to the complex action on the body, a multidirectional effect is achieved: getting rid of fat reserves, tightening the skin and stimulating metabolic and regenerative processes at the cellular level.
In this way, we prepare the body for further intensive interventions aimed at combating local problems.
At this stage, we are working intensively on the problem areas. According to a pre-prepared program, we use devices that target:
Removal of fat deposits in a specific area;
Cellulite removal;
Smoothing and tightening the skin;
Combating aesthetic defects (uneven fat deposition, flabbiness, sagging skin, etc.).
The studio is equipped with innovative equipment used by professionals around the world.
The relaxation and regeneration zone in Studio Figura is a place where you can recover after a series of trainings and treatments and strengthen or consolidate the effects achieved in the previous phases.
You won't have to put in any effort as the devices do all the work for you.
Pressure massage and myostimulation consists in contracting muscles under the influence of weak electrical impulses, which allows you to lose weight and firm your body without the need for further physical effort.
We will offer you special supplement complexes developed by our experts, detoxification kits, supplementation systems for weight control, appetite control, maintaining a high level of immunity and metabolic system.
It is in this combination of exercise - instrumental treatments - nutrition that we manage to achieve the set goal and maintain the result in the long term, if the recommendations of the beauticians and nutritionists of the studio are followed.
A new direction in the work of our studio. Because we are committed to providing all clients with a full range of services without extra time and effort, we offer you:
Kobido lifting facial massage - Japanese technique aimed at restoring natural rejuvenation processes and comprehensive skin revitalization;
Facial cleansing - based on the recommendation of the beautician or at your own discretion, you can choose one of the available methods: mechanical, ultrasonic, combined;
Cosmetic procedures of various typesto help you always look fresh and elegant
Studio Figura is a place that takes care of women and helps them to be sexy, confident, energetic and healthy.
We are located in the centre of Prague - in an area with developed infrastructure, which is extremely suitable for the modern lady who needs to stay beautiful and young despite the accelerated pace of life and many worries.
Elegance lives in Studio Figura!
If you have any questions or concerns, feel free to contact our chat here on the site or book a callback (bottom right corner of the screen) or contact us via any messenger...
Please fill in your name, phone number, date and time when we can call you.